Hawthorne Village
A man, a plan, a board of directors
The Facts

Platform: WordPress CMS

Plugins: Symposium, iThemes Security, PageLines framework

The Client
Bill is a semi-retired computer software professional. He has a condo at the Hawthorne Village vacation complex in New Hampshire, and takes an active part in governing the complex.
The Project
Bill had the idea that a website with a private bulletin board would help communications between condo association members. The site would contain a few public pages, a private page for every member, PDF copies of meeting minutes and legal documents, and lots of photos.
Though Bill is computer savvy, he does not know the best way to build a website to do this. He hired me to build a prototype site, then he would convince the Board to expand and use the site.
Solution
As usual when I know my client will be managing their own site, I used WordPress. WordPress is easy for a non-web expert to manage, and with the right set of plugins, can do almost anything.
I used the plugin Symposium to manage the private pages and social aspects of the site. I also used my standard set of framework and plugins to manage security and make the site easier to code and maintain.
Implementation
Bill had carefully prepared a mock-up of the home page in Adobe Illustrator, with some artistic features that were not easy to reproduce with WordPress. We had several meetings where we worked out a layout he liked that was code-able.
This is a common occurrence in website development, and one I've faced with several clients. The client has a vision of what they want their site to look like, but that vision is either impossible or extremely difficult to achieve.  [I once had to explain to a client that tool tips visible on hover won't work on a phone or tablet, and there was nothing I could do to make them work.] In cases like these, it's important to listen to why the client chose the design they did, and to address those reasons, even if you need to implement them in a different way.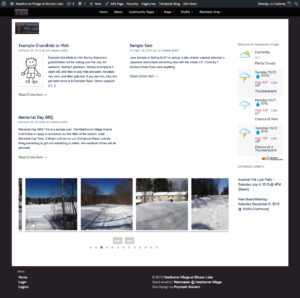 Results
As you can see in the screenshots, the site came out very well.
Bill presented the site to the Board of Directors and they were skeptical. They did end up using it and Bill has slightly edited my original concept and maintained the site without my help. You can visit the public areas of the site.