Purse Impressions
The Client
Sondra is a 70-something woman who is still very active and determined to learn new things. For the past few years, she's had a successful micro-business making hand-sewn artisan bags. Her loyal customers convinced her it was time to start selling online.
The Project

Develop an e-commerce shop to sell a small number of products. Not only does the shop need to be easy for customers to use, it needs to be easy for Sondra to manage.
Solution
I normally turn to WordPress for client-managed sites, as it is fairly easy to upload content and do basic maintenance. WordPress isn't right for Sondra though, as she would need to learn not only WordPress and an e-commerce plugin, but also how to manage inventory, fulfillment, and payment processing.
Sondra considered Etsy and decided not to go that route, as there is too much competition in her product line. She is not looking for wide exposure, most of her marketing is through word of mouth and she's happy with that.
I chose to build Purse Impressions as a Shopify shop. Shopify is a complete e-commerce solution, handling everything Sondra needs, including printing postage and inventory management.They have an extensive support system, letting me avoid panicked phone calls at 6:00pm Friday evenings.
For designers, Shopify offers a free sandbox account, so I could learn the system and build Sondra's shop without dealing with a live site. Shopify was easy to work with, and I got to learn a new system. Yipee!
Implementation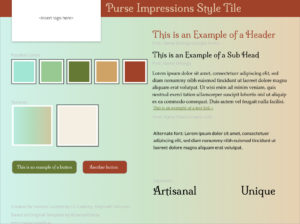 Building the website was relatively easy, as Shopify's tools are similar to WordPress. I used one of their basic templates, modified with a bit of CSS to produce a clean look using Sondra's preferred colors and fonts.
Teaching Sondra to use the system was interesting. We have very different learning styles: while I learn best by reading (or writing) well-written instructions, Sondra needed verbal coaching through each step.
When training, it's important for the trainer to modify their style to match the best learning style of the trainee. The trainee is doing enough work just learning the material, they will learn more easily in their favorite style.
Results
To my happy surprise, Sondra began selling bags almost immediately. Her little business is doing well. [And it should — the bag she made for me is awesome. It's become my work carry-all.]
I had a few calls from Sondra in the first week or two after the shop opened, but since then she's managed the site well without needing additional training.